It is this time of year when many students start thinking about careers. Working in the field of antique clocks as a horologist can be very rewarding.
The horologist was a top profession in the 18th century
In the 17th and 18th centuries it was one of the top professions. Now I suppose the doctors and dentists or bankers and accountants are today.  It is a shame that many colleges do not offer courses in horology but some still do.  West Dean College still provides excellent courses in horology. There is an excellent article in the Independant newspaper on these horology courses and 'breathing life into old treasures'. It is possible to do home study courses in horology with the British Horological Intstitute. It is also possible to do a BA Hons course at Birmingham City University in horology.
Excellent Career Path
I believe it is an excellent career path for young students. What I have found in the last 20 years or so is many people retiring into studying horology. This is fine but if young people knew how rewarding learning and working with antique clocks was, they would gain a head start in the field. Many people retire to work in horology as it has many benefits. It brings enjoyment in bringing something special back to life. Many workshops can be setup at home and so it is a great way to work for yourself and be your own boss.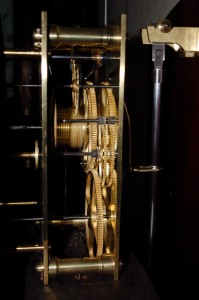 It is also a great career path to other forms of engineering or maybe working as a specialist auctioneer of clocks and watches. Working and repairing antique clocks brings you lots of knowledge along the way about the way things were made. Knowing how to date antique clocks for auctioneering. This is all valuable information and a great basis from which you can carve out a valuable and rewarding career in what ever you then may choose to do.
Specialize in clocks
There are fewer specialists in this field today and so a bigger chance to make a name for yourself. In the 17th and 18th century every little village had its own clockmaker and London was the centre of clockmaking with the Clockmaker's Company. Today there are few world recognized horologists. George Daniels was a watchmaker who was regarded as a special talent, he died recently. He gave alot to his field and certainly made a difference. It is certainly possible with the right enthusiasm and drive for students who enter this field today. Make the same difference and to enjoy what they do. I suppose this is a rare in many jobs today. Most people go to work to earn a living, but to actually enjoy your job, this is what makes your job special.
Daniel R Clements – Pendulum of Mayfair Ltd