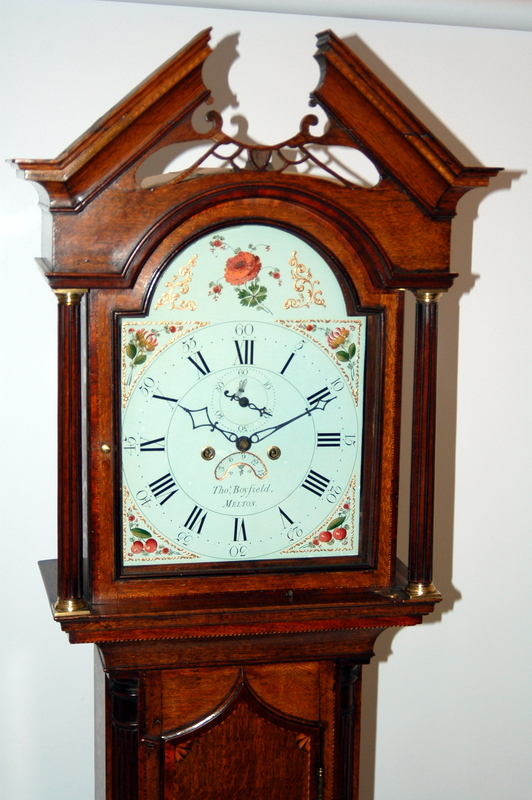 When it comes to Melton Mowbray, I suppose everyone thinks of one thing. Yes the town is famous for pork pies. Back in the 18th century the town of Melton in Leicestershire had some very good clock makers.
Thomas Boyfield Melton Mowbray
Thomas Boyfield was one of those very able watch and clock makers. The cabinet design is very similar to those cases known manufactured by Deacon of Barton. His records were found and are now situated in Leicester Museum. Samuel Deacon being a famous antique clock maker to come from this area.
Samuel Deacon
Clearly alot of information is known about Deacon through finding all his records. However, I am listing here a clock by Boyfield of Melton. Researchers can see the similarities in case design and the dial design. The dials were decorated in Birmingham. Unless you knew alot of information about Deacon clocks, you would think the clock I have pictured here is by Deacon himself.
Centre for Clock making
Leicestershire has always been recognised as an important centre for clockmaking in the 18th and early 19th centuries. I would recommend a visit to Samuel Deacons preserved clock workshop in Barton Leicestershire. It is a real eye opening experience. Leiecestershire museum also has alot of extra information of the clockmakers from this area. Therefore I would recommend a trip here. From my knowledge I can not remember many spring driven clocks from the county of Leicestershire. Deacon and other makers really only produced weight driven clocks.
Case Designs Leicestershire
You will notice the typical Leicestershire top to the door that you will see on clocks from this area. It is true that pretty much every area of the country had its own particular case design. Features like this top to the door are distinctive. Experts will only need to see this, to tell you where the clock was manufactured. This clock is of a lovely colour oak and with mahogany cross-banding and box wood fan inlays and chequer-board stringing. Quarter columns to the trunk and the typical hood design used on clocks like Deacon sold can also be seen.